It was rush hour in training shoes on both sides of Commonwealth Avenue for the sold-out 36th running of the J.P. Morgan Corporate Challenge in Boston.
BOSTON, June 20, 2019 – On the morning registration opens each year for the J.P. Morgan Corporate Challenge in Boston, good luck trying to get in touch with some employees at global insurer Liberty Mutual. For at least a few minutes.
"Team Liberty consistently fills up in less than five minutes on registration day," said Alex Bradford, team captain for Liberty Mutual. "Employees block off a half hour on their calendar and set themselves to 'Do Not Disturb' on Skype to ensure they get a spot on the team. It's chaotic, but it just goes to show how popular this event is."
Bradford and Liberty Mutual were successful in cracking the code again this year and secured the maximum 100 team spots for the 36th running of the J.P. Morgan Corporate Challenge in Boston's historic and beautiful Back Bay. The total attendance was 9,000 entrants from 365 companies and marked the 25th consecutive year the race – the largest held on a weeknight entirely within the City of Boston – sold out.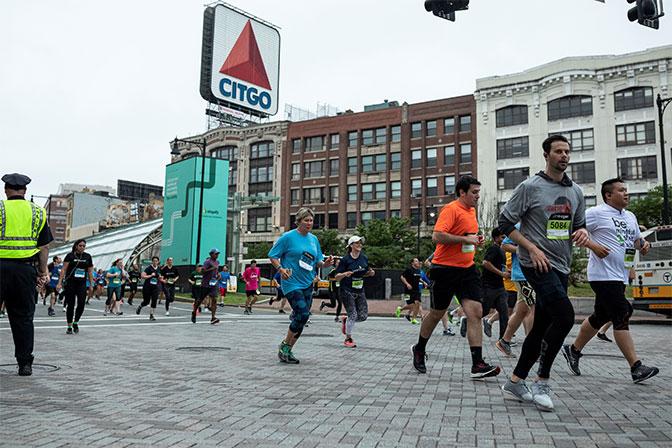 In the City of Champions, J.P. Morgan Corporate Challenge entrants ran through Kenmore Square in the shadow of Fenway Bank, with the iconic Citgo sign looming.
To Bradford and his Liberty Mutual colleagues, the Corporate Challenge is a signal of summer and reminder of where it does business.
"The Boston race has consistently been held on the longest day of the year, with great weather, along a beautiful course, and intense competition at the top-level amongst some of the larger companies," Bradford said. "We have a friendly rivalry with Fidelity."
Corporate Challenge competition in Boston begins long before the Charles Street starting horn goes off, according to Nicole Hoitt, who captains investment management firm Eaton Vance.
"It starts with registration," Hoitt said. "Our Corporate Challenge team of 100 employees is the most sought-after team to join each year for our 1,135 Boston-based employees. This year, 100 spots filled up in less than 10 minutes with 100 excited employees ready to run in their Eaton Vance t-shirts followed by a fun a post-race team celebration."
Evidence of the popularity of the Boston event is also apparent through the longevity of many of the participating companies. Pegasystems, a software company across the Charles River in Cambridge, was marking its 30th consecutive year on the Corporate Challenge starting line.
"It is part of our culture, and our employees look so forward to this event," said Kristen Richissin, team captain for Pegasystems. "Employees anticipate this so much that we have to send out notices in advance so they can be available to register as soon as we notify them. Our group picture taken every year truly reflects the excitement of this event on our employees faces. It is such an amazing event and we are so pleased we can be part of the evening."
Connor Reck of EverQuote was the best runner on the night, winning the men's division in 17:23 (4:58 pace). He outpaced Jonathan Phillips of Enel X, who crossed the line in 17:27, and Vasili Kariolis of Voyager Therapeutics, who was third in 17:57.
It was the second Corporate Challenge win for Reck, who also earned top honors in 2016. But it will hardly be the highlight of his week. He is getting married Saturday.
Megan Ratcliffe, running for Bracebridge Capital, earned her first J.P. Morgan Corporate Challenge women's title, breaking the tape in 19:17 (5:30 pace). Jaime Lord of Raytheon was the runner-up in 20:10 with Janelle Solviletti third in the same time, separated by less than two-tenths of a second.
Winning takes many forms at the Corporate Challenge. Analog Devices (ADI) may not have had a runner at the front of the pack, but the Norwood-based semiconductor company sees very tangible rewards for collectively covering the 3.5-mile course up and back on Commonwealth Avenue.
"Having a career with ADI means being challenged to achieve, both in work and in personal goals," said Mary Weston, Analog's captain. "The J.P. Morgan Corporate Challenge brings out this ambition whether achieving a team goal or beating personal records. The event also provides the unique opportunity for employees of all functions and job levels to come together as a team – great people whom we otherwise may not ever meet or interact with."
For the third consecutive year, J.P. Morgan donated in celebration of each participant to The Every Child Fund at Boston Children's Hospital. Funds provided to The Every Child Fund will help propel research and help provide compassionate care to every family who comes through the doors of Boston Children's Hospital, easing their burden and covering services insurance won't pay for.
The beneficiary component is what helped drive the participation of Charles River Associates, a global consulting firm.
Giving back to the community and emphasizing health and wellness initiatives have always been a part of Charles River Associates' culture," said team captain Martin Malabanan. "The Corporate Challenge provides CRA employees with both and that is why we wanted to offer as many spots as possible to all our Boston colleagues."
The true sense of community at the Corporate Challenge is what drew 100 employees from Philips, the multinational electronics company.
"It brings us together, for a good cause and it's fun!" smiled the Philips captain, Francesco Vicario. "Philips is a large organization and the Corporate Challenge gives us a chance to run in our #OneTeam t-shirts, and it feels great. We moved to Cambridge less than four years ago, we love it here and this J.P. Morgan event is a unique opportunity to engage with the local community."
The Boston race concluded the busiest stretch in the 43rd year of the J.P. Morgan Corporate Challenge Series – seven different cities visited in 31 days. The Series gets a slight breather before crossing the Atlantic for the 33rd running of the J.P. Morgan Corporate Challenge in London on July 3-4.