Kimberly Tomasik of Western Regional Off-Track Betting was a double winner on Thursday night in Delaware Night. She successfully defended her women's title at the J.P. Morgan Corporate Challenge and crossed the finish line virtually simultaneously with her husband Zachary.
BUFFALO, June 13, 2019 – It was a perfect night for a record-breaking crowd at the 39th running of the J.P. Morgan Corporate Challenge in Buffalo's Delaware Park.
After a biting-your-fingernails morning and afternoon filled with rain and wind, the weather took a positive turn less than an hour before the 6:25 p.m. start, and a spectacular crowd of 13,869 participants from 427 companies took off in sunny, ideal conditions.
The number of companies is the largest in Buffalo's history. And it maintained the reputation of this event in Western New York's largest city as the corporate social event of the season.
In a gathering with wide appeal across all industry groups, Wegmans registered the largest number of employees, 501. Ingram Micro signed up 482, Kaleida Health 413, Buffalo Public Schools 366, M&T Bank 278, Moog 253, HSBC 245, Elderwood 239, Erie County Medical Center 218, and Erie County 213.
Mike Moore, Team Captain and a Cost Analyst for Niagara Frontier Transportation Authority, was in Delaware Park early on race morning doing live television interviews. NFTA has been participating in the Corporate Challenge for three decades, fueling the popularity of the event.
"Being part of this great event is something all of us here at the NFTA look forward to every year," Moore said. "It is important for us to field a team because we enjoy being part of what the Corporate Challenge represents – building camaraderie within the organization in a social setting, participating in a healthy activity. It also builds a sense of team, as we're not running/walking as individuals, but for our company!"
Lactalis American Group was one of the over 250 companies that rented hospitality space inside Delaware Park and celebrated another Corporate Challenge completion.
"This is a great way for our employees to get together to have some fun and socialize outside of work. We encourage those not running/walking to come out and support our entire team,"said Kim Taton, Team Captain and HR Generalist for Lactalis.
"We start posting this event early in March to encourage anyone wanting to give it a try to join our team. Our company pays a portion of the registration for those who sign up to run/walk," Taton said. "We host a tent with a great dinner for everyone once the run is complete. It gives our employees an opportunity to come out and meet other employees that they don't work alongside of every day. It makes for a great team event."
The first-place women's finisher was the defending champion, Kimberly Tomasik of Western Regional Off-Track Betting (Batavia Downs). Tomasik's winning time was 20:11 (5:46 pace). Her time was 11 second faster than the 20:22 she won with in 2018. The runner-up was Kelsey Gratien of Univera Healthcare, with a time of 21:13. Third was Hannah Weppner from Rich Products in 22:01.
Tomasik had an extra spring in her step on the Delaware Park race course due to some significant developments in her personal life.
"I got married in October," Tomasik beamed. "And my husband finished almost right next to me tonight." (Zachary Tomasik ran a time of 20:10 and was the 23rd male finisher. Kimberly was first woman and 24th finisher overall.)
Tomasik also finds joy in reporting to work each day.
"I am the social media marketing manager at Batavia Downs Gaming. I absolutely love it," Tomasik said. "We have concerts, gaming, a lot of music in our sports bar, we have four on-site dining facilities, we have a summer concert series coming up next week, and we have live horse racing that starts July 24th. We provide a great value for our customers."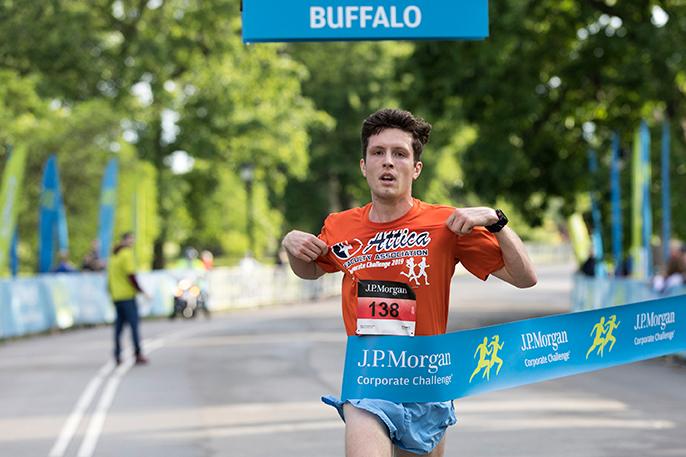 Alexander Burks, running for Attica Central School District, made his J.P. Morgan Corporate Challenge debut count, winning the men's division. Burks' victory meant all three 2019 Upstate New York races were won by SUNY Geneseo graduates.
The first-place men's finisher was Alexander Burks, representing Attica Central School District. He covered the 3.5-mile course in 17:44 (5:04 pace). Alex Simon, the 2018 champion from Erie County Medical Center, was second in 18:12. Greg Selke, running for Stark Tech Group, was third in 18:23.
Burks, an 8th grade Physical Science teacher, is currently working full-time and in the graduate studies program at the University of Rochester. So, his days are jam-packed. But he couldn't pass up the opportunity to run in his first Corporate Challenge.
"I got an email from the school letting me know about the Corporate Challenge," Burks said. "I thought that was right up my alley. If there is anything I love as much as teaching, it's got to be running."
An outstanding collegiate runner at SUNY Geneseo, Burks had extra motivation to run well on this night when he scanned previous results in this year's J.P. Morgan Corporate Challenge Series.
"I noticed that with the other Corporate Challenges Upstate, Lee Berube won in Syracuse, he's a Geneseo alumni," Burks said. "Tim Chichester won the Rochester race, he's a Geneseo alumni. About the only thing I must be disappointed about today is I was the slowest of the three of them."
JPMorgan Chase donated in celebration of all Corporate Challenge participants to the Beverly Gray Business Exchange Center, which inclusively serves small businesses on Buffalo's East Side and throughout Western New York. The mission of the Beverly Gray Business Exchange Center is to increase the quantity and capacity of local minority and women entrepreneurs.
Boston comes next in the 43rd year of the J.P. Morgan Corporate Challenge Series. The Hub's 36th running – with a 25th consecutive capacity crowd – takes off on Thursday, June 20.