Lucy Reid of J.P. Morgan in London beams as she breaks the finish line tape as the first individual woman at the 2019 J.P. Morgan Corporate Challenge Championship in San Francisco.
SAN FRANCISCO, September 4, 2019 – No city outside of New York has ever hosted multiple J.P. Morgan Corporate Challenge Championship events.
Until now.
San Francisco, which hosted the unifying event of the world's largest team running event in 2015, returned as the destination for a second time on this night. And it was spectacular.
The 36th running of the 3.5-mile Championship featured an award ceremony and post-race celebration inside the nearby Chase Center, the new home of the pro basketball powerhouse Golden State Warriors.
The 156 fastest full-time working runners in the world took off five minutes before a sold-out crowd of 10,500 entrants in the San Francisco race, and they were quite the site on the beautiful Embarcadero.
Each city in the Corporate Challenge Series – Boston, Buffalo, Chicago, Frankfurt, Johannesburg, London, New York, Rochester, San Francisco, Shanghai, Singapore, Sydney and Syracuse – was represented on the starting line.
Of that roster of cities, Frankfurt, Johannesburg and San Francisco proved to be the fastest.
For the second consecutive year, Frankfurt won the women's team title. In 2018 it was Bundespolizeiinspektion Deutsche Bundesbank. This year, European Central Bank took home the spoils. Tanja Wittman (20:26), Birgitt Bohn (20:27), Helena Bender (21:56) and Christina Gopfert (22:46) collaborated on the 1:25:35 Championship effort. San Francisco's Facebook was close behind in 1:26:25 with Fidelity of Boston third in 1:26:54.
Johannesburg's Implats earned the men's team title. The four-man team was led by Edward Mothibi, the individual winner of the event, with a sterling time of 15:48. His teammates were Moeketsi Joseph Tseiso (16:31), Samuel Matsepe (16:41) and David Gatebe (16:42). Their collective time was 1:05:42 and allowed Implats to finish ahead of second-place finishers BP of London (1:07:13) and third-place Google of San Francisco (1:09:08).
UC San Francisco, representing the host city, won the mixed division, with Justin Bullock leading the way in 17:14. His male counterpart Adam Cotton contributed an 18:40 and the team's two women, Morgan Kelly and Erin Thompson, clocked 19:03 and 21:01 respectively. That 1:15:58 collective time bested second-place J.P. Morgan of New York (1:18:10) and Allens of Sydney (1:20:25).
The best of the best individually on this night of champions were Lucy Reid and Edward Mothibi, representing London and Johannesburg, respectively.
Reid, representing Corporate Challenge owner and operator J.P. Morgan, earned her first individual title at the Corporate Challenge's most prestigious event. Her winning time of 18:08 held off outstanding performances from second-place Mia Morrison of Johannesburg's Investec (18:46) and the 2017 Championship winner, Trisha Byler of Dupont in Rochester (18:47).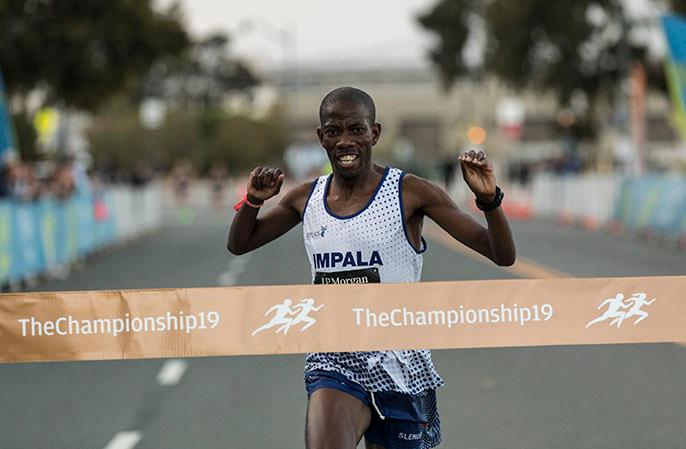 Edward Mothibi represented Johannesburg and his employer Implats with quality, winning the men's individual title at the 2019 J.P. Morgan Corporate Challenge Championship in San Francisco.
Mothibi, leading the men's team champion Implats, won the men's race in 15:48, besting a pair of outstanding runners from BP in London – second-place James Hoad (16:03) and third-place Tom Jervis (16:04).
The J.P. Morgan Corporate Challenge Championship was first held at the New Jersey Meadowlands in 1983. It moved to Wall Street in lower Manhattan for one year, 1984. It then began a 24-year run on Manhattan's Park Avenue, in front of JPMorgan Chase's world headquarters. All those races were held on Saturday mornings, typically in October.
Since 2010, the Championship has adopted an "Olympic-style" rotation and has been held on the same night of the regularly scheduled Corporate Challenge. Nine different cities have been visited in this rotation: Johannesburg (2010), Singapore (2011), Chicago (2012), Rochester, NY (2013), London (2014), San Francisco (2015 and 2019), New York City (2016), Frankfurt (2017) and Boston (2018).
Full individual and team results are available here with a search feature for your favorite runner or company.
Where will the next Championship be? Details on the 2020 J.P. Morgan Corporate Challenge Championship will be announced following the completing of the 2019 Corporate Challenge Series.