LinkedIn contributed 80 employees to the U.S. record crowd of 28,309 runners and walkers at the 38th J.P. Morgan Corporate Challenge in Chicago's Grant Park.
LinkedIn, the professional networking leader, is aiming to have its employees move a collective 3.5 million miles in 2019.
So, the 3.5-mile J.P. Morgan Corporate Challenge on this night was a nice warm-up for its employees in Chicago.
"Our 2018 Global Wellness goal was to collectively move 2.5 million miles, which we crushed by reaching 3.3 million miles," said Sarah Zigman, team captain for LinkedIn's 80-person Corporate Challenge squad. "This year, we've refreshed our goal and we're aiming to move 3.5 million miles. The Corporate Challenge will help us to continue to move towards this milestone."
LinkedIn was one of 687 businesses on hand for the 38th annual running of the J.P. Morgan Corporate Challenge, which attracted a staggering 28,309 racers, joggers and walkers to Grant Park. This is the largest single-night Corporate Challenge in the United States dating back to the event's 1977 origins in New York City.
And for LinkedIn – a company that reinvented how businesspeople stay in touch professionally – the Corporate Challenge is an important night out.
"The Corporate Challenge is a great way for our office to connect with each other outside of our day-to-day teams," Zigman said. "Our Chicago office has more than 700 employees, so it is often difficult to meet others outside of your business line and direct team. Since employees across all different LinkedIn teams participate, the race and the post-celebration provides an opportunity for us all to come together as an office."
Many Chicago employers come together en masse for the Corporate Challenge each May. Held annually on the Thursday before Memorial Day, it has become a staple in the business community.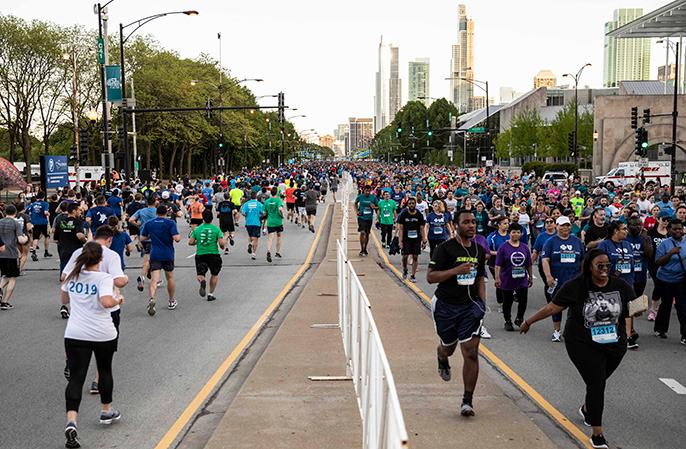 A total of 687 Chicago companies turned Columbus Drive into human rush hour for the record-breaking 2019 J.P. Morgan Corporate Challenge.
Evidence the popularity through some of these attendance numbers: Blue Cross Blue Shield of Illinois (1,220 total entrants), CDW (435), United Airlines (418), TransUnion (377), Molex (317), Deloitte (277), Morningstar (266), Mars (264), Wintrust (228), and CME Group (200)
"Mars has identified the Corporate Challenge as one of the greatest engagement opportunities of the year for their associates," said Kasey Cavanaugh, team captain and Human Performance Specialist for Mars. "This year we came together as one team from eight of our Chicagoland Mars locations, contributing to our largest team in years. There are multiple segments represented – Mars Food, Confectionary, Chocolate – which resonates with our belief in "One MARS".
The J.P. Morgan Corporate Challenge draws so well because of its all-inclusive nature. It is suitable for racers and walkers, corporations and start-ups, long-time friends in the office and new acquaintances, bosses and those getting their start. As such, it draws a thorough cross-section of a company's workforce. One example is Exelon, one of the nation's largest innovation, generation, and delivery companies.
"Exelon is made up of several operating companies, so we have runners from ComEd, our nuclear plants, and the Exelon corporate headquarters," said David Alvarez, team captain and Senior Project Manager for ComEd. "Our team consists primarily of engineers and also analysts, executives, nuclear operators, attorneys and many others who all share a passion for competition, running, or simply the good vibes from an event like this."
There were certainly good vibes at the finish line for Kristina Aubert from Northwestern Medicine and Brett Lustgarten of Cboe Global Markets – the winners in the women's and men's divisions, respectively.
Both are first-time winners at the Corporate Challenge and broke the tape some distance ahead of their closest competitors. Aubert's winning time was 19:10 (5:29 pace over the 3.5-mile course) and she ended the reign of Livongo Health's Chirine Njeim, who finished second in 20:31. Njeim had won the previous three Corporate Challenges in Chicago. The bronze went to Julia Buford of AECOM, with a time of 21:00.
Lustgarten clocked a 17:24 (4:58) pace and was immediately trailed by Duncan Perrillat from the Middleby Corporation in 17:40. Robert Rose, representing Wolverine Execution Services, authored a 17:41 time for third.
Victory can also take on many shapes, as a lighthearted comment by the team captain of Caterpillar illustrates.
"I politely say hello to several of our construction equipment competitors while I passed them on the course," smiled Bill Hurst, Caterpillar's team captain.
All the Corporate Challenge entrants can claim a long-term win as they helped a wonderful not-for-profit organization. For the second year in a row, J.P. Morgan will donate to Chicago Cares, in celebration of all Corporate Challenge entrants. Chicago Cares' 200 monthly volunteer projects and custom corporate programs are community-driven and impactful and help connect diverse Chicagoans with one another. Corporate Challenge participants can keep the good going by signing up to volunteer in their community.
The charitable aspect was a key driver in bringing R1 RCM back to the Corporate Challenge after a rookie debut in 2018.
"This is the 2nd year that R1 RCM is participating in the J.P. Morgan Corporate Challenge in Chicago – and we're excited to say we've tripled our participation numbers," said Gary Johnson, Senior Vice President of Marketing. "R1 is the leading provider of revenue cycle management solutions for healthcare providers. When we bring on a new hospital client, like AMITA Health, a number of their revenue cycle staff become R1 employees, which makes this event an excellent opportunity for everyone to get to know each other in a fun, team-spirited way. This event also helps us increase brand awareness among potential customers and employees, supports our Company's health and wellness initiatives and aligns with our philosophy of giving back to the community."
And the Corporate Challenge can be a wonderful way to integrate yourself in a new business community, as Accenture's Cindy Woods found out.
"This was my first year running the J.P. Morgan Corporate Challenge as I recently moved to Chicago from Dallas," Woods, one of 80 Accenture entrants on the night, said. "I love running so I am excited to share one of my outside of work hobbies with my work colleagues. It's also a great opportunity to meet new people with the same passion. It is always nice to be able to take a break from the office and get out and do life together in a fun way."
From Chicago, the 43rd year of the J.P. Morgan Corporate Challenge heads to New York City for two nights of racing in Central Park on May 29-30.