Part of the capacity crowd of 14,000 at the 16th annual J.P. Morgan Corporate Challenge in Johannesburg races through the emerald finishing stretch at the historic Wanderers Club.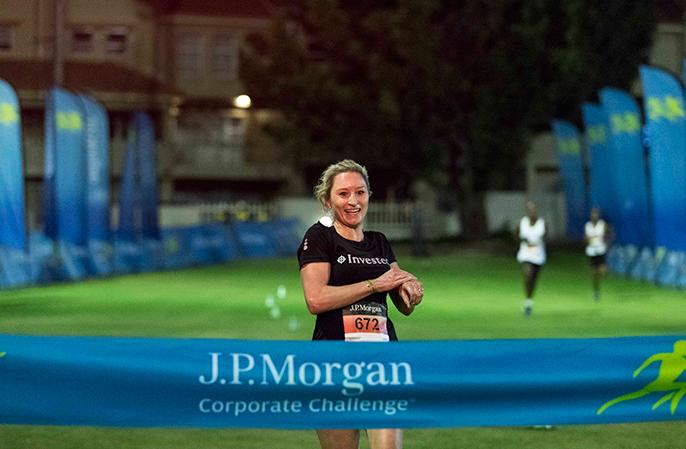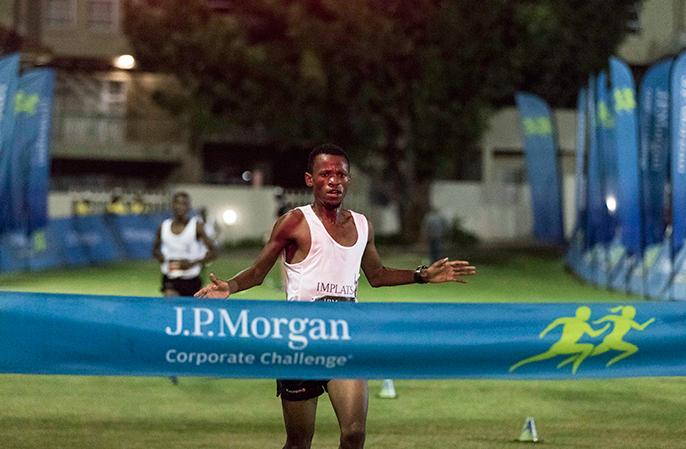 Mia Morrison of Investec and Samuel Matsepe of Implats were the individual champions at the J.P. Morgan Corporate Challenge, both breaking the tape in front of all their fellow competitors for the first time.
JOHANNESBURG, March 28, 2019 – It was Sweet Sixteen year in Johannesburg, and another sell-out.
The 16th running of the J.P. Morgan Corporate Challenge was held at the historic Wanderers Club, and it featured a capacity 14,000 entrants from 343 companies. This is standard fare in South Africa, as Johannesburg is the only event in J.P. Corporate Challenge Series history to reach a full house of entrants in each year of its existence, dating back to 2004.
The five largest companies in the capacity crowd were Investec (750 entrants), Absa Group (744), Rand Water (500), Smollan (500), and Standard Bank (446). This is the third consecutive year that Investec had the largest team and it has entered a total of 3,707 total employees over the last six Corporate Challenges (2014-19).
Smollan's impressive gathering was due to its proactive approach to employee health care.
"As our external environment becomes more and more challenging, we need to pay greater attention to the health of our employees," said Darushka Ragbir, Brand Manager for Smollan. "In doing so have created a Wellness drive that not only promotes excellence in the workplace but excellence in the way that we look after ourselves."
Smollan blends education with fun in its Corporate Challenge experience. It provides training tips to all employees in the lead-up to the event, and then rewards each participant with a race night gift bag. And the encouragement to enter comes right from the top.
"We have our Global CEO, Africa CEO, Chief growth and innovation officer all running," Ragbir said. "The J.P. Morgan Corporate Challenge is a great space for us to engage with our people outside of work and have fun together."
Investec's Mia Morrison had a blast at the front of the pack. She earned her first J.P. Morgan Corporate Challenge women's individual title, clocking the 5.6km (3.5-miles) race course in 21:08. She had to be on top of her game as the runner-up in 22:02 was two-time Corporate Challenge champion (2014, 2015) Mamotheba Anna Moeketsi of Transnet Engineering. Moeketsi's colleague Thozama Sylvia Godongwar was third in 22:19.
"This race is wonderful, always a spectacular race to run in," Morrison said. "It was great to see that Investec has the largest number or participants. I enjoy running in the biggest corporate event of the year!"
On the men's side Samuel Matsepe from Implats got some friendly revenge. Last year, he finished second to colleague Edward Mothibi. This time, Matsepe took top honors with a time of 17:25, while Mothibi was third in 17:34. In between the two was another Implats entrant, Jeremia Moshwetsi, with a recorded time of 17:28. Like Morrison, it was a first-time triumph for Matsepe.
"I want to thank God for his grace, and my coach David Adams, my manager Blackie Swart and my training partners," Matsepe said. "I came second last year, and this is a tough race, the hills are a challenge. But coming first was my goal since last year and I am elated!"
For the sixth consecutive year, the J.P. Morgan Corporate Challenge in Johannesburg served as a benefit and awareness-builder for the Laureus Sport for Good Foundation. Raising awareness for Laureus on behalf of the event were several well-known ambassadors for the Foundation, including rugby legends John Robbie and Morné du Plessis, football stars Desiree Ellis and Dean Furman, Paralympic swimming champion Natalie Du Toit, and TV personalities Cynthia Tshaka and Dan Nicholl. Scheduled to join them were several other celebrities: Former Springbok stars Butch James and John Smit, models Thapelo Mokoena and Hayley Own, and TV personalities Melinda Bam and Lunga Shabalala.
Smit was particularly thrilled to be asked to participate. The 50th captain of the South African National Rugby Union team, and a stalwart on the 2007 World Cup championship squad, Smit viewed it as a hands-on opportunity to pay back the Springboks' loyal fans.
"I realized what winning a World Cup meant to South Africa when we landed back at O.R. Tambo (Airport in Johannesburg) to thousands cheering us on," Smit said. "Now it's my turn to return the favor at the Corporate Challenge!"
Smit admired the 14,000 participants for making the right decisions in getting to the starting line.
"I've experienced first-hand the challenge of keeping a balanced life when it comes to family, job and your health," Smit said. "It is a proper challenge that everyone competing in this event can be proud of. I love a challenge and especially one that's for a great cause like this!"
Johannesburg was the second event of the 2019 J.P. Morgan Corporate Challenge Series, and part of a unique "opening night doubleheader." The Singapore event started approximately 7½ hours earlier and it was the first time in the 43-year history of the J.P. Morgan Corporate Challenge Series that two events have been conducted on the same day in separate cities outside of the United States.
The Series continues Tuesday, May 21, in Syracuse, New York. Registration is open now.