A warm early summer evening brought out the enthusiasm of accomplishment as runners approach the finish line at the first night of J.P. Morgan Corporate Challenge in London.
LONDON, July 4, 2019 – Rob Hemming remembers attending the 2013 J.P. Morgan Corporate Challenge with a rather modest number of his colleagues.
"There were eight of us, all changing into running kit under a tree in the park," Hemming said.
But this year, for the 33rd running of the Corporate Challenge in that same Battersea Park, Hemming and his colleagues from multinational technology and payments specialist Equiniti had over 260 entrants.
"We have offices all over the globe and this is an occasion for us all to meet in a more social setting that aligns with our health and wellbeing policy," Hemming, Equiniti's team captain, said. "With the J.P. Morgan Corporate Challenge now having a firm place in our corporate calendar, we start initial planning in December with champions acting as a local point of contact and rallying the teams across the business as many members of staff are eagerly enquiring as early as January when entries will open."
With that level of enthusiasm, it is not surprising that the 2019 J.P. Morgan Corporate Challenge in Battersea Park drew an amazing crowd of 30,648 entrants from 761 companies over two warm July nights. It was a full capacity gathering and the eighth consecutive year the Corporate Challenge has sold-out all its spots in London.
"The J.P. Morgan Corporate Challenge provides a great forum for BlackRock colleagues to meet and get active collectively," said Colin Wilkins, BlackRock's team captain. "This is particularly important given the depth of BlackRock's business, as colleagues from a variety of areas who do not interact daily get to know each other in a fun and energetic environment."
There were some huge teams gathered over the two nights. On Wednesday, 3 July, HSBC had the largest gathering with 850, followed by PwC (529), Barclays (404), Citi (371) and NatWest (351). Bank of American Merrill Lynch topped the field the very next evening with 632 employees entered, followed by Goldman Sachs (503), Morgan Stanley (450), BNP Paribas (401) and Willis Towers Watson (276).
Willis Towers Watson, a multinational risk management firm, not only drew from its Lime Street location in London, but also had colleagues traveling into the capital from Ipswich, Redhill, Reigate, and even Manchester.
"The event is used to bring together all our colleagues who have a passion for running in a fun and safe environment, with the additional drink afterwards to reminisce about their race times and challenges they have managed to concur to run the 5.6km course," said Carl Baker, the tireless team captain for Willis Towers Watson.
"Spending over six hours hand selecting and packing of the Willis Towers Watson team purple colored t-shirts with their corresponding race number and food vouchers is worth it to see all our colleagues at the end of the race happy in knowing that the event has been another success," Baker said.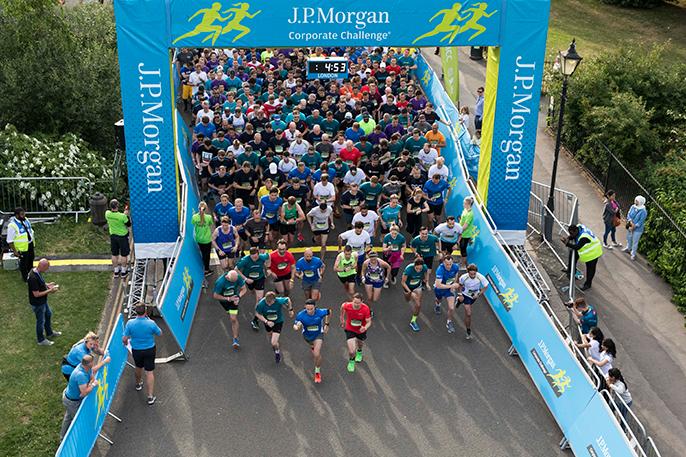 Over 750 companies had employees take off from the leafy starting line at Battersea Park on the second night of the 33rd running of the J.P. Morgan Corporate Challenge in England's capital.
International bank BNP Paribas says its huge crowd in Battersea is due to the tangible and intangible benefits of group exercise.
"As a business, our activities and employee engagement agenda are closely aligned with the UN Sustainable Development Goals (SDGs); our participation in the challenge not only contributes to our support of UN SDG 3, Good Health and Wellbeing, but also helps us to get our employees thinking about their own mental and physical wellness," said BNP Paribas team captain Louie Christy.
"The Corporate Challenge is even more fitting this year, as we are running an SDG Summer of Sport, which encourages staff to think about how sport can be used to help achieve the SDG's," Christy continued. "Participants always comment on the event's fantastic community atmosphere, bringing together peers from across different industries to enjoy sport together."
Enjoying the front of the pack on Battersea's beautiful cross country-style course were the individual winners.
On Wednesday night, Bethanie Murray, representing Capital One, earned the women's title with a time of 20:11 over the 3.5-mile (5.6km) course. ARUP's Julia Bijl was runner-up in 20:36 William Mycroft of Man Group was the men's winner in 17 minutes flat, with Andy Greenleaf of Julius Baer second in 17:10.
Lucy Reid of event owner and operator J.P. Morgan was the star Thursday night, winning the women's race in a speedy 19:16. Carolyne Baxter took second in 20:52. Matthew Revier, running for Aviva, earned the men's title in 17:09, with Andrew Penney of Goldman Sachs close behind in 17:13.
Financial services company Nomura was a natural to participate in the Corporate Challenge. It has been named one of Great Britain's Healthiest Workplaces three years consecutively.
"We campaign across the firm as well as getting our onsite healthcare provider, Nuffield, involved," said Nomura team captain Heather Pow. "They offer a team warm up before the race, and a stretching session for runners in our marquee afterwards. In the words of one of our participants, 'the atmosphere is really buzzing, and it was a great chance to catch up with colleagues outside of work'."
The two nights of competition and camaraderie also included a strong community element, with J.P. Morgan donating on behalf of all entrants to the Alzheimer's Society, the United Kingdom's leading dementia charity.
The donation will go towards funding the Society's Dementia Advisers and could help 595 people access a Dementia Adviser over a year. Dementia Advisers help people to come to terms with a diagnosis and navigate the care and support that is available to them. They provide practical and emotional support to people affected by dementia. They offer tailored information so they can consider their future options, link people up with local professionals and services, and help them to access them.
Tony Karas, team captain for Deutsche Bank, noted that the charitable aspect of the Corporate Challenge is a driving factor behind the firm's enthusiasm participation.
"Deutsche Bank has a very active running community and a culture of charity support, and this event happily combines the two and so very little preparation is needed to generate interest," Karas said. "I just publish the details for race entry, and it sells out quickly."
Societe Generale is another multinational bank that circles the July dates in Battersea Park on its corporate calendar. It believes that participating in the Corporate Challenge demonstrates its "company culture in action," according to team captain Laetitia Montfort.
"The J.P. Morgan Corporate Challenge has been a race Societe Generale has participated in for as long as I can remember," Montfort said. "The demand from our employees has been growing over the years and we find it a great corporate engagement activity. Whether people are here to beat their personal best or just enjoy an active walk, we link it to our general community social responsibility activities to raise awareness and funds for our charity partner."
After a two-month break, the J.P. Morgan Corporate Challenge Series returns on Wednesday, September 4 in San Francisco. The Series' annual Championship event will be held that evening, followed by the 35th running of the Bay Area event. The post-race party will be held within the new Chase Center, home of the three-time NBA champion Golden State Warriors.