The J.P. Morgan Running Club, including the tireless Charlie Hewson and Carole Loader, help register nearly 2,000 J.P. Morgan employees a year for the Corporate Challenge in Battersea Park.
LONDON, June 24, 2019 – The largest participating company worldwide in the J.P. Morgan Corporate Challenge Series is the event's owner and operator, JPMorgan Chase & Co.
More than 9,000 employees from the financial services firm entered Corporate Challenges in seven countries during the 2018 Series year, and it is on track to top that number in 2019.
JPMorgan Chase mobilizes all its lines of business and administrative personnel to promote the Corporate Challenge's mission of corporate teamwork, camaraderie and community.
In London, that translates to thousands participating each July. In total, 5,928 J.P. Morgan staff from London, Bournemouth and Glasgow registered for a spot on the Battersea Park starting line the last three years. And that group is captained by J.P. Morgan's Software Engineer Program Manager Charlie Hewson.
Though don't suggest to Hewson that he is directly responsible for all that success. He will quickly point out others.
"Bournemouth is brilliantly managed by Carole Loader, one of our Ultra-marathon runners," Hewson said. "Scott Wilson helps drive participation in Glasgow, and a committee in London help manage the race entries and participation here."
Hewson has been an integral part of the explosive growth of employee participation at the Corporate Challenge. He joined J.P. Morgan in 1999 and his first Corporate Challenge experience was in July 2000, when the Bank had a small corporate marquee.
That started to change when Hewson and the J.P. Morgan Running Club began to take hold.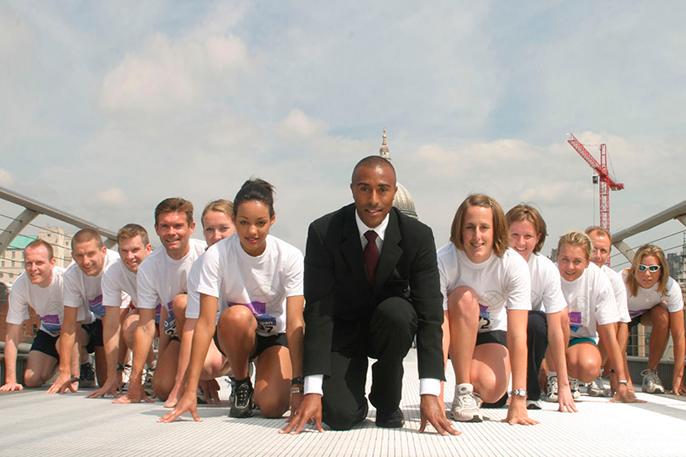 Charlie Hewson (far left) and several of his J.P. Morgan colleagues get in the blocks with Olympian and world champion hurdler Colin Jackson before the 2003 Corporate Challenge.
"I've been involved in the running club committee for more than 10 years, as co-chair, and treasurer for most of that time," Hewson said. "The running club has more than 1,000 on the various distribution lists across London sites, Bournemouth and Glasgow. Club information can be found via go/running. We are an England Athletics affiliated team, so we're 'official'."
Hewson, along with J.P. Morgan Running Club colleagues Jonathan Ormerod and previously with Martin Wood, take on the difficult task of identifying runners who have strong enough credentials to help J.P. Morgan finish as high as possible in the men's, women's and mixed divisions, and content for spots in the J.P. Morgan Corporate Challenge Championship.
And Hewson is scrupulously fair when it comes to enforcing the rules
"We need to be very clear that the runners who completed the course, were the runners who registered, so we validate each result," Hewson said. "It can lead to some embarrassing conversations when people have to declare that they were not able to run on the day, which we try and avoid through messaging as it does break the race rules."
Running is in Hewson's blood. His dad Brian represented Great Britain in the 1956 Summer Olympics in Melbourne (1500 meters) and 1960 in Rome (800 meters). And he takes extra special pride when a top J.P. Morgan runner does exceptionally well at a Corporate Challenge – like Lucy Reid being the first overall woman last year, running a splendid 19:15 over Battersea Park's tricky cross country-style 5.6km course.
On the job, Hewson now supports the training of new graduate technologists to J.P. Morgan. And loves watching his "students" perform both in the workplace and race course.
"I am keen to see new talent join the firm, and increasingly run past me in various race events," he smiled.
Hewson will be out with J.P. Morgan, of course, when the 33rd running of the J.P. Morgan Corporate Challenge is held on July 3-4 in Battersea Park. A capacity crowd of 30,000 entrants from 800 companies is anticipated. That turn-out is part of the more than 250,000 total projected to register at 13 Corporate Challenge events around the world this year.
"I'm always super proud of the scale of J.P. Morgan's commitment to the event, locally and globally," Hewson said.
And Hewson will feel even more accomplishment when he leads Team J.P. Morgan this July.
"I had some heart surgery last year, so I took some time to get back into running, focusing on local 5K's," Hewson said. "Most recently I extended myself to 10K distances and lined up some summer races, and of course the Corporate Challenge!"