Memorial Sloan Kettering was at the first Corporate Challenge in 1977, and they are still making the healthy choice by entering in 2017.
Nearly forty years ago – July 13, 1977 – the very first Corporate Challenge was held in Central Park.
Then called the Manufacturers Hanover Corporate Challenge – or, affectionally, "The Manny Hanny" – the quirky 3.5-mile, team-only road race drew 200 entrants from 50 companies.
And Memorial Sloan Kettering was one of them.
"We've been there from the very beginning," said Nina Brojan, company captain for Memorial Sloan Kettering, a world-renowned Manhattan hospital. "MSK employees take pride in where they work and the work they do, so they really look forward to occasions where they can get together outside of the institution, represent MSK, and have fun for a good cause."
That sounds like a perfect mission statement for the J.P. Morgan Corporate Challenge, which over the past 40 years has grown into a massive global celebration of workplace fitness and camaraderie. This is officially the 41st year of the Corporate Challenge in New York, and there are now races in six other countries on five continents with more than 260,000 total participants expected this year.
The first night of 2017 racing in New York took place in pristine late-spring conditions – true shorts and t-shirt weather – with a psyched, sold-out crowd of 15,000 entrants from 353 companies. Some ran very fast, particularly Gian-Paul Caccia and Melissa Salerno (see more on that below), some jogged, some walked the leafy 3.5-mile east-to-west course. But most will go to the office the next day confident they did something smart for themselves.
"We have a wonderful Wellness Program at MSK that offers employees a variety of opportunities to engage in activities that foster collegial relationships, boost morale, and support wellbeing," Brojan, who captained a team of 250 colleagues, said. "Since we've been participating in the Corporate Challenge for many years, it's self-perpetuating."
Mitchell Feinberg, who served as company captain for luxury fashion company Coach, describes the Corporate Challenge as a "cultural cornerstone" and proudly registered 351 colleagues.
"Once you participate you're hooked forever," said Feinberg. "We've participated for over 20 years. Word-of-mouth about the event among our employees, coupled with photos and testimonials from our most senior leaders to our newest employees really helps to drive interest. We were able to fill over 300 spots in a matter of hours. Having a great hospitality tent doesn't hurt either."
Feinberg correctly points out what could be the real reason for the Corporate Challenge sustained success – the opportunity to celebrate with colleagues in beautiful Central Park. Three-hundred-forty-three of the 353 entered companies reserved either a tent, hospitality space or a picnic area, making this the biggest party in Manhattan on this evening.
The camaraderie greatly appeals to Susan Cardamone, who registered a massive 582 entrants from the Hospital for Special Surgery (HSS).
"We participate in many initiatives geared toward fostering teamwork," Cardamone said. "Over the years, our team for the Corporate Challenge has grown from 100 to almost 600, making it the most well-attended extramural employee event. The race provides such a great night of team spirit and camaraderie, and our staff and physicians are proud to represent HSS on race day."
The fact that the Corporate Challenge can aid HSS in its day-to-day work is a special bonus, according to Cardamone.
"As an organization focused on musculoskeletal health, our purpose is to get people back to doing what they need and love to do," Cardamone said. "So, focusing on fitness and staying active is part of our culture. We've have several staff members who joined the Corporate Challenge as walkers and were then motivated to keep active, eventually losing upwards of 100 pounds."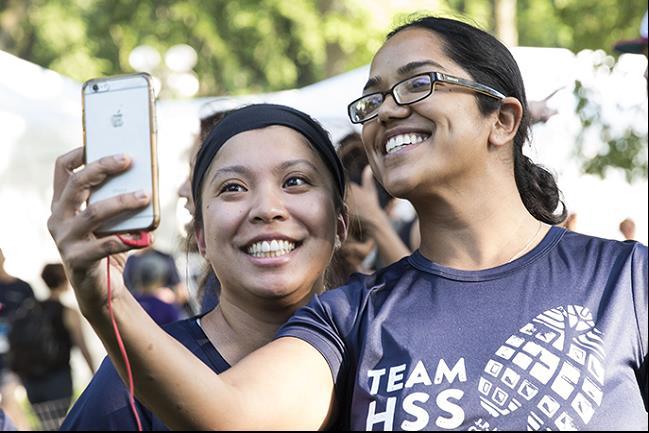 The Hospital for Special Surgery is all smiles about entering the J.P. Morgan Corporate Challenge; it regularly has employee success stories leading out of its participation.
As has been a constant since 1980, the Corporate Challenge served as a benefit for the Central Park Conservancy, the manager of Central Park. J.P. Morgan will celebrate the Corporate Challenge by donating to support the Conservancy's mission to restore, manage and enhance the Frederick Law Olmsted-designed gem.
The Conservancy's Development Coordinator, Stephanie Gozali, had the best possible view of the fastest runners, holding the first-place finish tapes with former Syracuse University standout and New York Knicks first-round draft pick John Wallace. And they witnessed a great example of teamwork.
Gian-Paul Caccia and Melissa Salerno, colleagues at Gerson Lehrman Group, won the men's and women's divisions, respectively. Caccia literally soared through the finish line in 17:20 (a 5:25 pace), nearly a minute better than runner-up Cabell Rosanelli of Cerberus Capital Management (18:12). Salerno's 19:50 clocking (6:12 pace) was 23 seconds the better of Memorial Sloan Kettering's Ana Johnson (20:13).
Caccia and Salerno wore t-shirts emblazoned with "The Fast and the Curious." That's accurate, considering their running ability (Salerno has world-class 1500 meter times) and the work they do for their employer, which is one of the world's largest membership network for one-on-one professional learning.
And if Caccia's name is familiar to you in relation to the Corporate Challenge, it should be. He is now a four-time champion, having also won the men's division here in 2010, 2011 and 2012.
We do it all again in Central Park on Thursday, June 1, with the second night of racing and another capacity crowd of 15,000 runners (from 351 companies) expected.