AllianceBernstein trains together in advance of the J.P. Morgan Corporate Challenge, extending the teamwork beyond race night.
They say good things come in threes. You won't find John Bleday or Meg Ryan arguing with that expression.
Bleday and Ryan – representing multinational professional services firm PwC – won the men's and women's individual titles in the second night of racing at the 41st annual J.P. Morgan Corporate Challenge in Central Park. It marked the third consecutive Corporate Challenge race where the first-place runners were both from the same company.
Last Thursday, May 25, in Chicago, Kevin Havel and Chirine Njeim of Livongo Health were the top male and female finishers. Last night in New York, Gerson Lehrman Group boasted the tape-breakers in Gian-Paul Caccia and Melissa Salerno.
This was an emphatic win by Bleday, his first Corporate Challenge title. He crossed the finish line in 16:57 – the fastest time over two nights here in Central Park – and needed every talented stride to finish just ahead of hard-charging Chris Bendtsen from eMarketer. Bendtsen came in with a bit of a home course advantage, having taken first-place at this event the past two years.
Ryan successfully defended her 2016 women's title, clocking 20:26. Anisa Arsenault of XO Group was runner-up in 20:58.
At the start, a sold-out crowd of 15,000 from 351 companies were sent off by someone who knows a bit about high-quality athletic achievement.
John Starks electrified New York Knicks fans at Madison Square Garden in the 1990's, setting the franchise record for three-point field goals made while playing with a likable New York edge. On this night, he changed roles, doing the cheering from the start stage for likely many runners who had supported him during the Knicks' deep playoff runs in his career.
And, throughout Central Park, 319 companies who had rented hospitality space, tents or picnic areas, enjoyed a picture postcard and camaraderie-filled post-race party.
Christine Kaslyn holds the company captain duties for AllianceBernstein (AB), a global asset management firm. She registered 250 colleagues this year, and admits the Corporate Challenge has become part of the wellness fabric at AB.
"All staff are encouraged to participate in the annual Corporate Challenge," Kaslyn said. "Each year, participants received an AB-branded T-shirt and are invited to a post-race mixer to wind down and bond with one another. The race has become an annual event; it strengthens our corporate community with an opportunity for employees to connect with colleagues across the firm."
AB furthers the teamwork by training together in the weeks leading into the Corporate Challenge.
"We have a dedicated Run Club, consisting of more than 160 members," Kaslyn said. "The group typically meets once a week, but also holds special J.P. Morgan Corporate Challenge prep runs to get employees excited and ready. The club is open to everyone at AB of all ability levels – from beginner to marathoner."
Barry Tetrault, company captain at multinational professional services firm Deloitte, has captained many Corporate Challenge teams. He credits endorsement from the top of the house in putting together a large roster of entrants.
"For the past several years, Steve Gallucci, Tri-State managing partner, Deloitte LLP, encourages participation in this event," Tetrault said. "It not only supports the well-being of our people, but also brings together a large group of professionals from all areas of the organization."
Tetrault says the actual Corporate Challenge "race" begins long before the starting horn is sounded.
"Deloitte usually fills its team less than week after extending the invitation," Tetrault said. "Deloitte professionals highly value the opportunity to not only join their colleagues in exercise, but it also gives them the opportunity to connect with senior leaders, including Steve Gallucci, and other professionals whom they may not have had the opportunity to meet otherwise."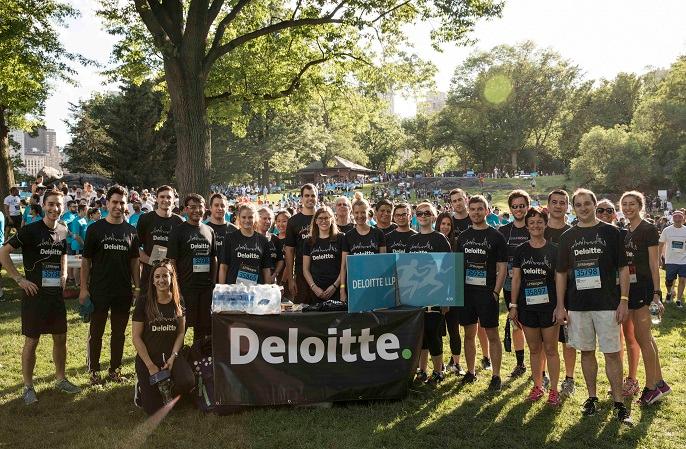 Deloitte registered 250 entrants for the 41st J.P. Morgan Corporate Challenge within a week of the open of registration.
Event owner and operator J.P. Morgan registered a fantastic team of 1,025 employees, bringing its two-night total to 2,023 entrants. J.P. Morgan and its predecessor firms have brought this event to Central Park each year since 1977. Other large teams on this night included American Express (1,000 entrants), Goldman Sachs (887), Bloomberg (399) and Barclays (303).
The 15,000 runners and walkers saw Central Park in its full spring glory, making the beneficiary component even more personal. J.P. Morgan will donate to celebrate the Corporate Challenge to the Central Park Conservancy, the manager of Central Park, to support the Conservancy's mission to restore, manage and enhance one of the world's signature urban green spaces. The Conservancy was represented on-site by Liz Jordan, Manager of Corporate Development, who held the finish-line tape for Bleday and Ryan.
The 2017 J.P. Morgan Corporate Challenge stays in New York state for its next stop, moving approximately 250 miles northwest to Syracuse for that city's 35th running on Tuesday, June 6.