Glenn Hartrick with RailWorks colleague Graeme Lue Qui at the 2018 J.P. Morgan Corporate Challenge in Central Park.
When Glenn Hartrick joined RailWorks – North America's leading track and transit system experts – in 2010, he immediately convinced his colleagues to enter a team in the annual J.P. Morgan Corporate Challenge in Central Park.
He certainly brought running bona fides, having competed in 175 marathons, triathlons and other distance events in a five-year period, earning Ironman All-World Athlete status and a Runner's World cover photo.
Hartrick's call to enter was heard, and more than 20 RailWorks colleagues joined him on the 2010 starting line. A first-corral runner, Hartrick set the pace for his colleagues with consistent sub six-minute pace runs in 2010, 2011, 2012, and 2014.
"Even in 2013, the year our night for the Corporate Challenge was rained out, I still made it to Central Park for a loop prior to the downpour," Hartrick remembered. "Working for an organization that has headquarters in New York City, home to our largest customer, it's important we show our pride. The Corporate Challenge provides an opportunity for employees within the organization to engage in a healthy activity while helping to foster relationships and drive significant team building within the various groups and operations, more so than anything we do locally all year."
At RailWorks, Hartrick was humming along working for the firm known for leading the joint venture that constructed the track and systems for Phase 1 of the New York City Transit's Second Avenue Subway line. He was at the top of his game, professionally and athletically.
Then a routine bike training ride in 2014 – less than two weeks after the Corporate Challenge that year – sent a reminder how fragile life and success can be.
"I was hit by a car making an illegal U-turn when I was on my bike just south of the George Washington bridge early on a Thursday morning, June 12," Hartrick said. "It left me paralyzed from the chest down."
The next month was spent in the hospital, followed by two months rehabbing nine broken ribs, two collapsed lungs, a broken jaw and scapula, and blood clots in both legs.
But while Hartrick may have lost the use of his legs, his resolve became stronger. He found out truly who he was, and what he had.
"Immediately after my accident and during recovery I've gained a deeper appreciation for my family, friends, colleagues and athletic community who has helped encourage and push me to set lofty goals and expectations," Hartrick said. "I'm a firm believer in living life through the windshield and not the rear-view mirror. Sometimes bad things happen, but I don't want that to impact me negatively or limit what I'm capable of."
And Hartrick freely admits he was blessed to have incredible support from his employer.
"RailWorks was instrumental in my transition during recovery, the support of the entire organization helped me ease back into normalcy," Hartrick, now a VP of Procurement at RailWorks, said. "Part of the normalcy was the Corporate Challenge."
So, less than one year following the accident, Hartrick was captaining another Corporate Challenge team. This time there were almost 70 colleagues from RailWorks, including the CEO and CFO.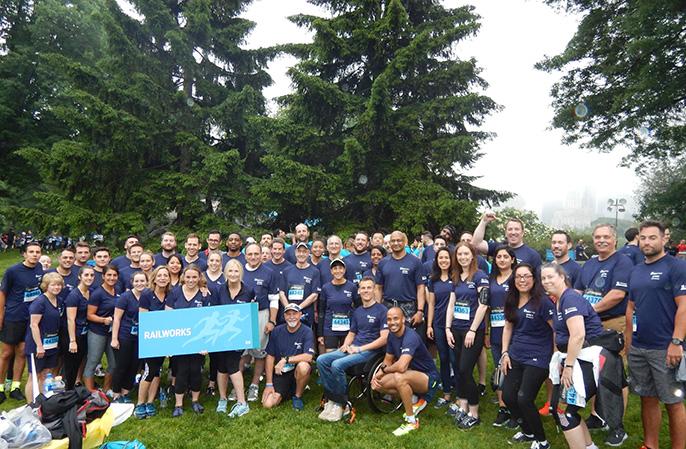 The inspirational Glenn Hartrick has more than tripled the size of the RailWorks team at the Corporate Challenge.
"The same hills that are challenging as a runner I would tackle in my everyday wheelchair," Hartrick said. "One of my friends from the office competed with me and brought back memories of his high school football days serving as my lead blocker along the course to ensure safety for myself and the others since they typically wouldn't be expecting a wheelchair.
"Hills slow me down and we get passed, but we make up for it coming down," Hartrick smiled. "What goes up, right?"
And with his participation in the Corporate Challenge checking off the box for athletic competition, Hartrick also dug back in professionally at RailWorks. He certainly had a great deal of pride when the Second Avenue Subway project was completed, and service began on January 1, 2017.
Hartrick and his RailWorks colleagues will again be in Central Park for the 43rd running of the Corporate Challenge this May. The event is scheduled over two nights – Wednesday, May 29 and Thursday, May 30 – and is expected to reach a full capacity of entrants. Please visit New York's registration page for the most current information or contact newyorkcity@corpchallenge.jpmorgan.com.
"Each year we participate in the event that is then followed by dinner at a local restaurant a few blocks off the park," Hartrick said. "We have the whole restaurant to ourselves and the sense of personal pride, company pride, and city pride is front and center."
And the memories of the night rarely fade. In fact, Hartrick said, the anticipation for the next Corporate Challenge begins almost immediately.
"Folks that have never competed in anything close to this before become competitive with each other," Hartrick said. "They train for months leading up and want to improve on their time from the prior year, and most importantly fosters incredible team building amongst the organization."
Hartrick continues to build. His 2018 was rather humbling to the recreational athlete – he completed the 2018 Ironman World Championship in Hawaii and the New York City Marathon, becoming the first athlete to complete the latter as a runner, hand cyclist and rush-rim racer.
"I'm not in the front corral running out to a lead," Hartrick said. "But, I'm back, I'm out here and I'm competing alongside friends and colleagues that understand what it means to set goals and push boundaries."