Sascha Scott of Syracuse University breaks the tape in 2018 for her fourth J.P. Morgan Corporate Challenge individual title in five years.

SYRACUSE, May 8, 2019 – Sascha Scott is one of the top female runners in the J.P. Morgan Corporate Challenge Series, having won the Syracuse race three years running and four of the last five.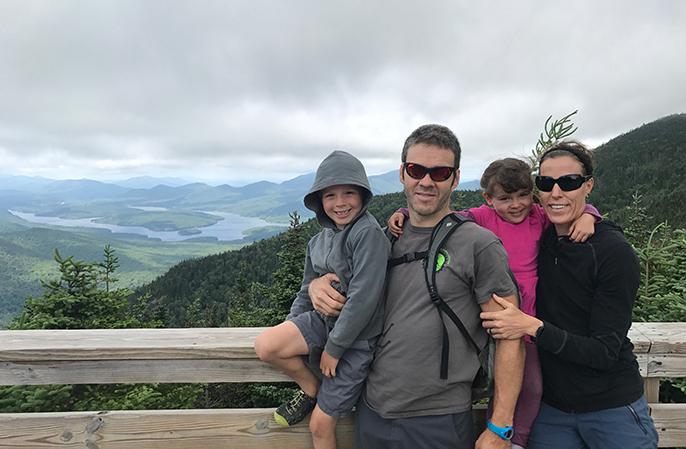 Sascha Scott and her husband Kevan Edwards are a true team in balancing raising their kids Moby and Moxie, teaching at Syracuse University, and excelling athletically.
But when you ask the multi-sport athlete, wife, mother and college professor what her favorite Corporate Challenge moment is, the answer moves far away from the finish line.
"Representing Syracuse University, hands down, is my favorite thing about the Corporate Challenge," Scott enthused. "It is a joy to meet so many different people from the university, people who I might not otherwise meet. Our provost has run. Professors run. Staff from across the university runs. People who offer essential services in keeping the university beautiful run. I look forward to meeting new people each year."
Scott is an Associate Professor and Director of Graduate Studies in Art & Music Histories and one of 177 Syracuse University employees who participated in the 2018 J.P. Morgan Corporate Challenge at Onondaga Lake Park. She'll be back again this year representing the Orange for the Tuesday, May 21 Corporate Challenge.
While acknowledging her respect for the deep and talented Syracuse running community, Scott knows she has a shot to win her fifth Corporate Challenge title this year. She has broken the women's tape the last four times she entered – covering the 3.5-mile course in 20:12 in 2014, 21:20 in 2016, 20:31 in 2017, and last year's 20:32.
But when she gets back to the hospitality tent after the race, it's all about team.
"I'm honestly not sure how many people who enter the Corporate Challenge for SU know about my victories," Scott said. "What I hope inspires people to participate is what inspires me to participate – community and wellness. Seeing one's professional community tackle a challenging event together is the most motivating thing of all."
Taking a few minutes to get to know Scott is motivating.
Raised in Denver by a single mother, b.j. Scott, she and her four sisters were encouraged to play all sports, with and without balls. Softball and soccer were her first favorites. And the lessons learned in competition taught the Scott girls well.
"My sisters are all strong, independent women," Scott said. "My twin sister Megan Doherty has just been promoted to Colonel in the Air Force, and she's a mother of four. The bar is high."
Scott's relationship with running began at the end of her senior year in high school when she "dabbled" in track. She began running more seriously as a sophomore at Colorado College. Long, lean and fearless, she found her potential in the hurdles and was an All-American as a junior and senior.
While pursuing her master's at George Washington University in D.C., and her Ph.D. at Rutgers University in New Jersey, Scott coached track and transitioned to middle-distance running, setting a personal best of 4:41 in the mile and qualifying for the 2006 United States Track and Field Indoor National Championship.
But Scott is just like every other Corporate Challenge participant, juggling work and family demands while also making time for the passions that make everything whole.
"I am very lucky that my husband, Kevan Edwards, is also a competitive athlete (bike racer) and a professor of philosophy at SU," Scott said. "We have two children, Moxie, age 6, and Moby, age 8, and my husband gets it. We support each other's athletic goals without question, sharing parenting and household responsibility equally. We carve out time for each other to train, usually in the mornings or evenings. I have also learned from my coach of 15 years, Roberta Anthes, to be flexible and adaptable. I don't fret if a sick child, work obligation, or simply being exhausted from a long day of work gets in the way of a hard training session."
Scott would be the first to admit also that part of her running success comes because the work component of her life is fulfilling. She loves her job and is good at it.
"Being a professor is such a great job because there are so many facets to it," Scott, who has earned undergraduate and graduate teaching awards, said. "I pride myself on my dedication to teaching and my students. One of the unique things about Syracuse University, especially the College of Arts and Sciences, is that it is a teaching-focused research institution. I am part of a department of truly gifted teachers but also incredibly productive scholars."
Currently on research leave supported by a fellowship from Brown University and the College of Arts and Sciences, Scott is writing her second book – about Native American art and U.S. political history.
"It's an important topic," she said, "especially considering the struggles and resilience of Indigenous people today."
And meanwhile, Scott continues to grow as an athlete.
Early onset osteoarthritis in both knees has guided her back into multi-sport mode. She cycles (for Cork Money Racing in Syracuse), swims (training with master's teams), and competes in triathlons. The cross training has made her stronger, durable, and a force.
"My favorite season is indoor track. I still run college track meets against women who are half my age, and I hold my own," Scott, who runs for the Syracuse Track Club, said. "Over the last three years during the indoor season, I've run the 800 meters at 2:13-2:14 and the mile in the range of 4:47-4:54."
Those starry times have Scott currently second on the list of top ranked masters (age 40+) middle-distance runners in the world. In 2018, she earned quite a triple – winning National Championships in the 800 and 1500 meters and 5K.
And, in the 2020 summer, Scott has her eyes on the world master's outdoor track and field championships are in Toronto.
"I've never been able to compete at a world event because of time and money," she said, "so I'm hoping to be strong and healthy for that meet."
Before that, Scott will pull on a Syracuse University singlet at the J.P. Morgan Corporate Challenge. And whether she earns the first-place spoils or not, her wide smile will be on display.
"I feel a tremendous amount of pride in seeing so many people from Syracuse University join the challenge," she said.