The J.P. Morgan Corporate Challenge was the hottest ticket in town.
A capacity gathering of 10,849 runners from 371 companies gathered at the China Basin starting line, and were sent off to compete over 3.5 miles by the official starter, Golden State Warriors rookie Jordan Bell, who will learn a thing or two soon about competing in front of sold-out crowds.
Salesforce comfortably had the largest team in the event, with 903 total entrants. Five others registered 250 or more, including Genentech (347 entrants), VMware (314), BioMarin Pharmaceutical (275), Gilead Sciences (265), and Visa (250). Event owner and operator J.P. Morgan has 601 entrants.
"Year over year, we have brought 300 or more participants to the Corporate Challenge," said Manuel Valdez, Company Captain for VMware. "Our team absolutely loves the event. We are all about teamwork and camaraderie, and when it comes to events, VMware does it BIG. We provide bus transportation to and from the event from VMware Corporate Headquarters in Palo Alto, we have a custom-design t-shirt, and at the race have a large rent with food, drinks, bag storage and FUN."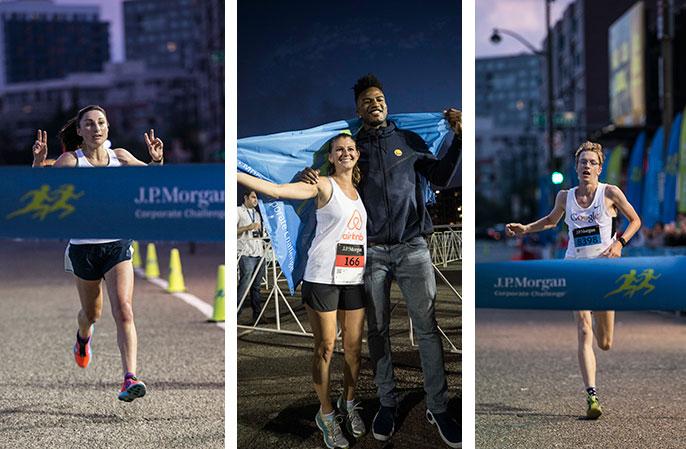 BioMarin Pharmaceutical's Cora Versaggi has been participating in the Corporate Challenge since it was held at Crissy Field and has witnessed a significant growth in participation from her colleagues.
"More than 10 years, when we first participated, we had a team of just over 20," Versaggi remembered. "This year we have 275! The Corporate Challenge is a big deal internally at BioMarin. The sense of community our colleagues feel and their general passion for activity makes this a great night. We are fortunate to have so many colleagues who want to support local events and charities, and who have an appreciate for camaraderie and getting together."
A big deal in their respective workplaces the morning after the race were a pair of first-time winners: Matthew Leach of Google and Ashley Benson from Movecoach. Leach earned the individual men's title with a sizzling time of 16:55 over the 3.5-mile course. Benson captured the women's race with in 19:33.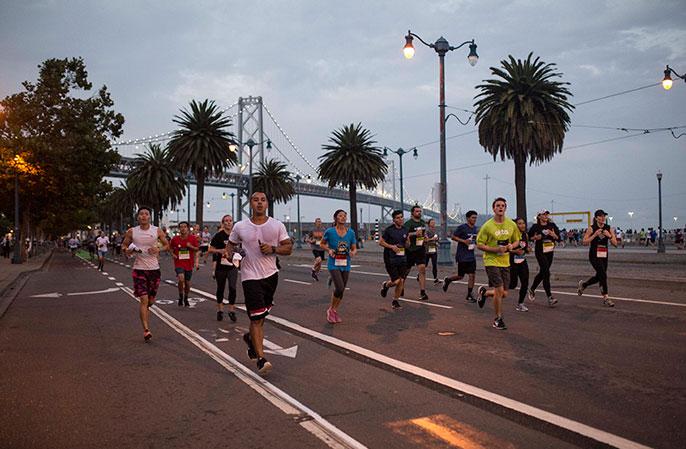 The Corporate Challenge served as a benefit and awareness-builder for the Warriors Community Foundation. J.P. Morgan will donate in commemoration of the Corporate Challenge entrants to the Warriors Community Foundation, has chosen three organizations to benefit: Boys & Girls Club of San Francisco, East Oakland Youth Development Center and Playworks.
Two events remain in the 41st year of the J.P. Morgan Corporate Challenge Series, Shanghai and Sydney. Check back to www.jpmorgancc.com for all the details.