The Singapore Flyer, a contemporary addition to the city-state's eclectic skyline, serves as a striking backdrop for the J.P. Morgan Corporate Challenge runners.
The 2019 J.P. Morgan Corporate Challenge Series opened with a record performance.
A total of 14,380 runners and walkers from 423 companies entered the 16th running of the Singapore edition of the Corporate Challenge. This is the largest number of companies ever in this event, topping the previous mark of 404 companies in 2013.
The Corporate Challenge made its first visit to this gorgeous island city-state in 2004 and has increased in popularity almost annually. It brings together companies large and small, local and multi-national, and when they are all lined up at the starting line in front of the National Gallery, the company pride is palpable.
"This is a great opportunity to get the team together outside the office and have some fun!" said David Crawford, a Principal Consultant for data management company NetApp. "NetApp have been in Singapore for almost 20 years now and we love participating in local community events like this."
Crawford organized the NetApp team and had no trouble getting nearly half of the company's Singapore-based workforce to the event.
"Everyone was so keen to get involved!" Crawford said. "The team includes both first timers and veterans of previous events. Some are keen to surpass their previous times, some want to beat the person sitting next to them, others just want to avoid being last! We have over 130 people here in Singapore from eleven different countries so there is some national pride at stake too!"
Crawford also correctly noted a significant tangible benefit of the Corporate Challenge – exercise.
"We recognize that the health benefits of training for a 5.6km run are also valuable," Crawford smiled, "especially for those wanting to get back into shape after a heavy Lunar New Year!"
Two runners from Deloitte & Touche were in winning shape.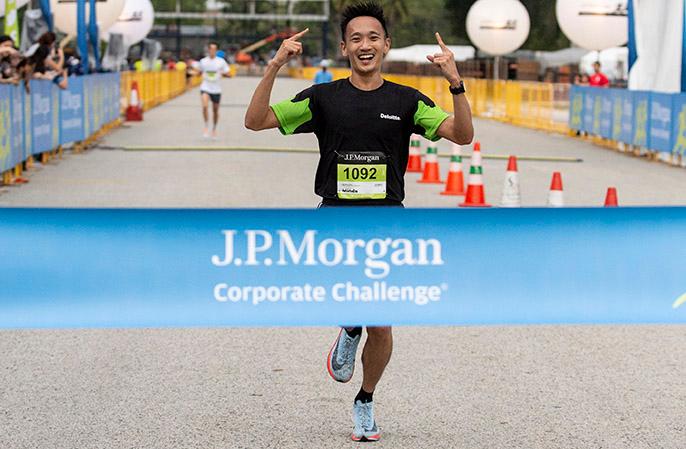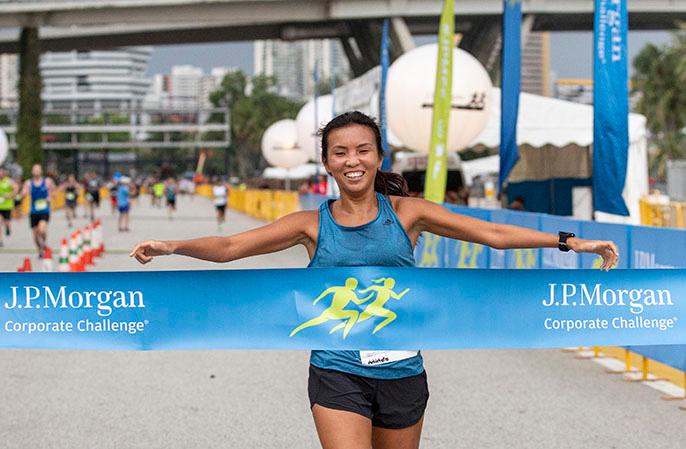 Deloitte & Touche not only had the largest company team (500 entrants) but the two fastest runners – Jasmine Teo and Melvin Wong.
Jasmine Teo earned the individual women's title, covering the 5.6km (3.5-miles) distance in 22:29. April McKenna of Barclays was a strong runner-up in 22:31 with Heather DeFreitas, representing Tricor, third in 22:47.
For Teo, this was her second Corporate Challenge title in Singapore, following her 2017 first-place effort. She was third in 2018.
Melvin Wong has been a staple at the front of the Singapore men's pack for more than a decade. He finished second in 2009, 2011 and 2015, and bronze-medal performances in 2012 and 2014. This year, he finally broke the finish-line tape, winning in a time of 18:21.
Wong held off Guillaume Rondy of IHS Markit Asia (18:28) and Jason Lawrence of Overseas Family School (18:50). Wong and Lawrence have dueled in the past, with the latter earning the Singapore men's title in 2013 and 2016.
Deloitte & Touche brought quality with Teo and Wong, and quantity. With 500 employees entered, it was the largest company in the event in terms of entries for the first time. Event owner and operator J.P. Morgan registered 413 of its employees. Eight other companies entered 150 or more: SAP (350 entrants), BNP Paribas (255), Visa (255), Agency for Integrated Care (233), PwC Singapore (230), Amazon (204), Cisco Systems (185), and SATS (150).
Hemant Kumar, team captain for Cisco Systems, notes that the multinational technology company has participated in the last 11 Corporate Challenges in Singapore, and it is an effective way to encourage healthy living.
"It's a fun filled event that our employees wait the whole year for," said Kumar. "We arrange for a hydration party near the finish line and provide our own music band perform to entertain our participants.
"Our management has always been very supportive of the event and most of our senior leaders participate," Kumar continued.
Loo Choon Sen, Finance Director for Cameron, a Schlumberger company, had a great time out on the race course with his highly-visible colleagues.
"Our people are a fun-loving bunch and this Challenge is taken as another team building and bonding event," he said. "You see it in our attire. You need dark glasses to look at us as we are so effervescent and bright. The other thing is we come in all shapes and sizes. I think you would have never seen such diverse participation, be it height, weight, fitness. We're celebrating being a team."
For the third consecutive year, J.P. Morgan commemorated the efforts of each entrant by making a charitable donation to MINDS, one of the oldest and largest non-governmental organizations catering to the needs of persons with intellectual disability in Singapore. MINDS' aim is to provide equal opportunities for children with intellectual disabilities to receive education and later, to be integrated as contributing and responsible citizens to society.
Singapore was the debut event of the 2019 J.P. Morgan Corporate Challenge Series,
just a few hours before the Johannesburg, South Africa race, also on March 28. The Series, dating back to a 1977 debut in New York, is marking its 43rd consecutive year of operation.