Laura James breaks the finish line tape in 2013 for her second J.P. Morgan Corporate Challenge women's individual title.
Laura James is set to compete in her 10th J.P. Morgan Corporate Challenge in Centennial Park on 31 October and she has already firmly cemented her position as one of the most accomplished runners in this annual Sydney event.
In nine previous Corporate Challenge entries dating back to 2008, James has finished among the top 10 women each time, including first-place finishes in 2011 and 2013, and runner-up in 2010, 2012, and 2014.
Just as impressively, James has served as an ambassador for the event at her employer, Macquarie's Banking and Financial Services Group, helping to register over 2,200 colleagues from across Macquarie Group since 2008.
"I am forever asking my colleagues to sign up and run in this event," James laughed. "I honestly feel so fortunate to have made so many amazing memories and friendships throughout the years."
This will be the 18th J.P. Morgan Corporate Challenge in Sydney, and the event is coming off a record year for participation in 2017 – 8,804 total entrants from 391 companies. James can speak from deep experience on how the Corporate Challenge can help people come together.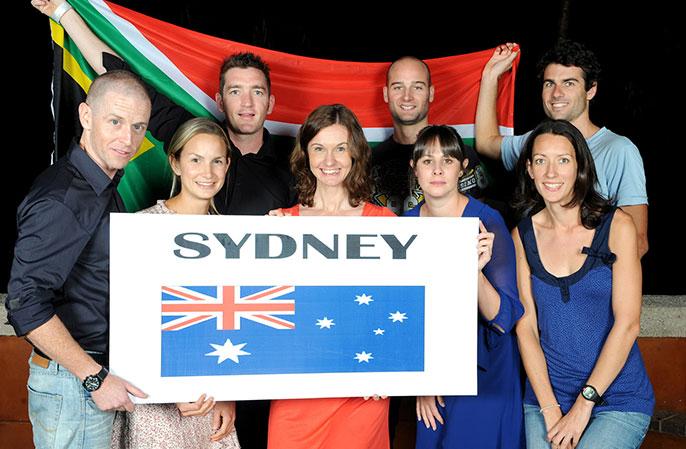 Macquarie Group qualified both men's and women's teams for the 2010 J.P. Morgan Corporate Challenge Championship in Johannesburg, South Africa, one of four Championship appearances for Laura James (second from left).
"Through taking part in the Corporate Challenge I've been lucky enough to meet so many people within my organization, and develop relationships with those I wouldn't necessarily met otherwise," James said. "It is such a great team building experience. It has also given me the opportunity to since lead a Wellness initiative at work, as I have seen the positive impact physical activity makes on people's wellbeing, both physically and mentally."
James has also taken part in these events around the world. She has led a four-woman Macquarie team at four J.P. Morgan Corporate Challenge Championship events: 2010 in Johannesburg, South Africa; 2011 in Singapore; 2013 in Rochester, New York; and this past 21 June in Boston, Massachusetts.
"My first trip was probably my favorite, as it was the first time experiencing travelling internationally for the Championship and we were lucky enough to have both our Macquarie men's and women's team competing," James said. "The whole experience was amazing, and I felt so grateful to have been a part of it. I also went on an incredible trip around South Africa with one of my teammates after the race and made memories and friendships I will remember forever! We went on a safari, travelled around Cape Town and visited some amazing small villages."
Ask James what her favorite Corporate Challenge memory is, however, and the answer speaks to her competitive spirit and admirable perseverance.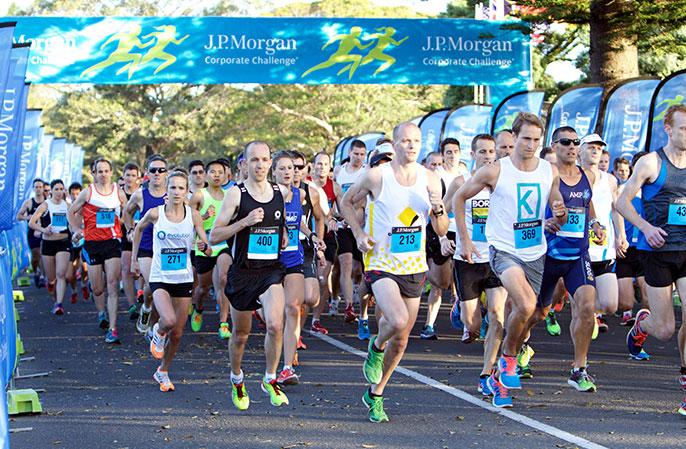 Laura James (bib number 271) heads off from the Centennial Park starting line at the 2014 J.P. Morgan Corporate Challenge, a race that spoke to her perseverance.
"The Corporate Challenge that stands out most is not when I won, but when I came second in 2014," James said. "After winning in 2013 and the same year running personal bests at every distance, including a 2:47 Marathon, I suffered injury after injury, including stress fractures and a torn Achilles. I was cleared to start running only a few weeks before the Corporate Challenge and wasn't even sure I would make the distance, to be honest."
But James covered the 5.6km Centennial Park route in an impressive 19:38, just two seconds off her 2013 winning time, and close on the heels of winner Lucy Starrat of KPMG.
"To be back out running, and even racing, was such an amazing feeling and made me remember why I love to run so much!" James enthused. "To cross the line in second was a shock, and I felt so proud of the fact that I hadn't given up throughout the year when I was told more than once to give up competitive running."
James, who began running competitively at 18, notes she is currently "cross training like crazy", incorporating strength training, swimming and riding into her regular regime, with a goal of setting a Marathon personal best. But James' goal for this year's Corporate Challenge is more modest.
"I would love to be able to win the Corporate Challenge once more," she admitted, "but will just be happy to be on the start line and running to be honest! To me, there is nothing more satisfying then lining up alongside so many friends, pushing myself to my limit and ultimately, running in a race that supports a local community charity."