Beautiful Centennial Park was the setting for Sydney's largest ever J.P. Morgan Corporate Challenge, featuring 10,129 entrants from 425 companies.
SYDNEY, October 30, 2019 - When David Heazlett was gathering post-race feedback from his colleagues at Mercer following the 2018 J.P. Morgan Corporate Challenge, his favorite comment read "this event is better than the Christmas party."
Heazlett smiled, and then raised the ante when asked about this year's race at Centennial Park.
"I think it's better than New Year's Eve," Heazlett, the team captain for Mercer, one of the world's leading firms for superannuation, investments, health and human resources consulting. "It's such a good mix of getting active and then celebrating with colleagues."
It appears the general business population in Sydney agrees with Heazlett's assessment. The 19th running of the Sydney Corporate Challenge attracted a record crowd of 10,129 entrants from 425 companies. This was the first time the event topped 10,000, having begun in 2000 with 2,180 runners and walkers.
"Mercer has a very friendly, inclusive culture that values health and wellbeing. So, we really focus on participation," Heazlett said. "We figure the more colleagues who sign up, the more who get to enjoy the event – both the fitness aspect and the social event afterwards. So, for us, bigger really is better. We have a great team of volunteers spread across all parts of our business who help encourage participation at a team level. These people really are champions who advocate for the event. We've found our people are much more inclined to sign up when their teammates also sign up."
Mercer had 175 total entrants, the third highest total in the race. Life insurance company TAL registered 220 of its employees, and the largest was multinational professional services firm KPMG, which brought an impressive crowd of 225 to Centennial Park.
"We have promoted the J.P. Morgan Corporate Challenge firm wide and encouraged staff to participate, with an overwhelming response," said KPMG team captains Josh Couriel and Larissa Tichon. "KPMG has a community wellbeing initiative through running. Our vision is to build a community of runners from walkers to whippets, encouraging each other to collectively strive for personal bests."
KPMG was the second largest corporate team in Sydney's iconic City2Surf on August 11 and carried that momentum into this race. This is the most employees KPMG has ever brought to Centennial Park for the Corporate Challenge.
"We are driven to help make an impact not only within our organization, but also as a model of wellness through running to other corporates," Couriel and Tichon said. "Naturally the interest in our organization, and by our clients, has grown as a consequence. Our running community at KPMG is supported across the organization and continues to grow. We currently have over 30 run leaders, 500 members and have just launched our first official event – the CBA KPMG Can4Cancer Ultra. Over the next 12 months, our goal is to reach 1,200 engaged members in our running community at KPMG.
"We are always on the lookout for events that we can target training for, and the J.P. Morgan Corporate Challenge stands out to us as an event accessible to all staff – a fast challenge for our performance runners and an achievement for our first timers to strive toward," Couriel and Tichon added. "We have been overwhelmed by the support within our organization to provide a means for our community to come together and celebrate afterwards at the (post-race) corporate tent (in Centennial Park)."
Westpac (162 entrants), CommBank (153), Australian Securities Exchange (151), ANZ (150), Toyota Financial Services (131), American Express (124), and Perpetual (123) also had outstanding employee turnout.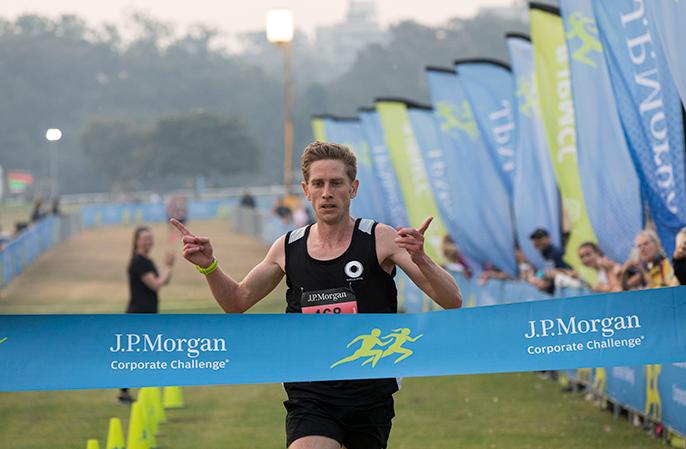 Matthew Hudson of Macquarie Group, the 2018 J.P. Morgan Corporate Challenge runner-up, did himself one better this year, earning his first men's title with a time of 16:58.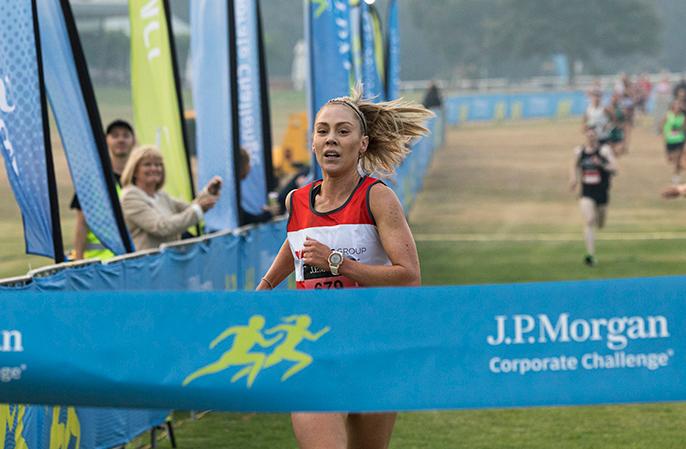 Westpac's Lexy Gilmour earned her third J.P. Morgan Corporate Challenge women's title in Sydney, breaking the tape in 19:44.
"The J.P. Morgan Corporate Challenge has become something of a legacy for CommBank runners," said Alice Clayton, CommBank's team captain. "We have a strong history of winning the team events and enjoying the trip to the J.P. Morgan Corporate Challenge Championship. The internal buzz leading up to the event spreads quickly and everyone wants to come and be a part of our team success. What's more, physical and mental wellbeing are real focuses here at CommBank. Working flexibly and using time to do things that help combat stress and encourage a positive, healthy lifestyle is a big part of our culture."
Clayton was part of the CommBank women's team that competed in the 2019 J.P. Morgan Corporate Challenge Championship in San Francisco on September 4. As team captain, she finds that her company's success in the race has tangible benefits for all employees.
"Attending the Championships certainly helps raise the publicity of the event internally, which I was lucky enough to do this year," Clayton said. "The employee running chat group comes alive with banter between the faster runners, all encouraging each other up to prepare for the event. Those new to running enjoy learning hints and tips from those with greater experience.
"It's also about the team camaraderie and feeling of unity," Clayton said. "After months of training there's no better feeling than finishing a tough race and celebrating with your team who were with you every step of the way."
There was celebrating among the employees of Macquarie Group and Westpac as they had the first-place individual finishers.
Lexy Gilmour of Westpac led the women across the finish line, earning her third J.P. Morgan Corporate Challenge individual title. She broke the tape in 19:44, putting 2019 in the trophy case along with her victories in 2017 (19:21) and 2016 (19:25). KPMG's Aleisha Wawn (20:18) and Data Republic's Imogen Briscoe (20:38) were the second- and third-place finishers.
Matthew Hudson was the 2018 runner-up in Sydney, but this year the Macquarie Group employee broke the tape, winning the men's race in 16:58. It was his first Corporate Challenge title, and he bested strong efforts from Ben Liddy of Central Performance (17:13) and Tom Middleton of Blackwoods (17:14).
For the sixth consecutive year, participants in the Corporate Challenge made a difference for Indigenous Australians. J.P. Morgan donated on behalf of all entrants to the
Indigenous Marathon Foundation
, which has been a model of success since being launched by running legend Rob de Castella in 2009.
The 43rd year of the J.P. Morgan Corporate Challenge Series concludes in Shanghai on Thursday, November 14. It will be a 3 p.m. local race start for the ninth running of the only Corporate Challenge ever held in China.