A Sydney-record crowd of 9,256 runners and walkers takes off in beautiful Centennial Park.
Consistent improvement is a recipe for success for any business or individual.
And that is the case with the J.P. Morgan Corporate Challenge in Sydney, which improved its participation for the ninth consecutive year on this beautiful evening in Centennial Park.
A crowd of 9,256 entrants from 419 companies – the largest in the 18 years this event has been conducted – turned out to run or walk 3.5 miles, celebrate the achievement in post-race hospitality, and support a successful and important charitable foundation.
Despite statistical evidence that road races are fading in popularity worldwide, the J.P. Morgan Corporate Challenge continues to surge. Including this Sydney participation, 10 of the 12 events in the Corporate Challenge Series this year have either reached a full capacity of entrants or increased participation from 2017.
Commonwealth Bank fueled the record turnout, registering 218 of its employees. TAL had 203 entrants, and eight others went over the 100 mark -- ANZ (161), Mercer (156), Transport NSW (156), Westpac (149), ING (122), Macquarie Group (116), Toyota Financial Services (112), and Perpetual (103).
With such a large crowd of companies, the networking opportunities provided at the Corporate Challenge are of great value to TCorp, according to team captain Craig Noble.
"The Corporate Challenge provides an excellent opportunity for our team to mix and interact with clients outside the work environment," Noble said. "This adds a further dimension to the 'work relationship' in a less formal context."
Noble noted that TCorp, which provides investment and financial management, solutions and advice to the New South Wales government family, has a lengthy history of supporting its employees in their "work-life balance challenge." To provide incentive to participate in the Corporate Challenge, the firm pays its employees' entry fee and provides a company t-shirt.
"We see the Corporate Challenge as a great opportunity for our employees to be out of the office and enjoying each other's company in a less formal environment," Noble said.
Westpac is one of the staple companies of the Corporate Challenge in Sydney, with its participation dating back to the debut 2000 race in Centennial Park. Team captain Lachlan Oakes says his colleagues eagerly look forward to competing.
"It's always a great night as it provides an opportunity for staff to interact socially outside of work, as well as being physically active, and challenging each other to some friendly competition," Oakes said.
"Westpac always has a marquee set up at the finish which encourages people to stick around afterwards and enjoy some well-earned food and drinks. The event caters really well for runners of all abilities, from the faster runners who are motivated by inter-company rivalries, to those aiming to get fit or lose weight. Overall the event is a great way to bring corporate workers together doing something healthy and enjoyable."
It was enjoyable – and also record-breaking – at the front of the pack for Kevin Batt of Winc Australia.
Batt, the 2017 men's individual champ in Sydney, turned in an effort unprecedented for 2018. He broke the Centennial Park finish tape in 16:06, the fastest time of any of the 12 J.P. Morgan Corporate Challenge Series events held to date this year. He bested the 16:09 submitted by Aaron Bienenfeld of Frankfurter Laufshop on in Frankfurt, Germany on June 7.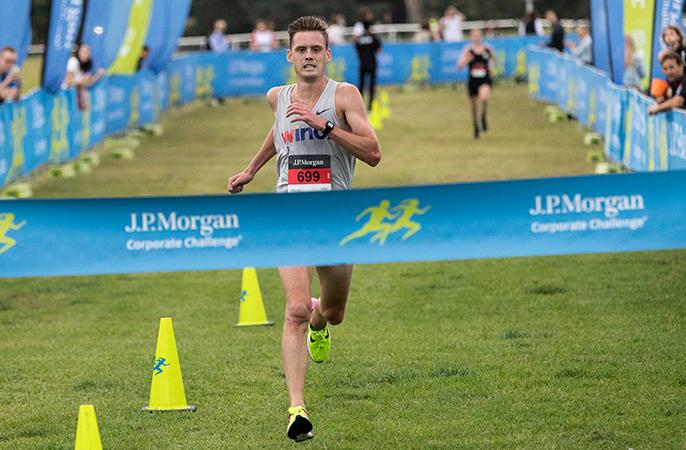 Kevin Batt of Winc Australia is officially the fastest man in the 2018 J.P. Morgan Corporate Challenge Series, winning the Sydney race in an eye-catching 16:06.
Matthew Hudson of Macquarie Group was a worthy second – submitting a time of 16:14 that is the fourth fastest in the Series this year. Matthew Whitaker of Jones Day was third in 17:23.
In the women's race, Emma Collyer earned her first Corporate Challenge individual title with an impressive time of 19:41. Collyer, representing MI Associates, had a fifth-place finish here in 2015.
Emma Collyer of MI Associates earned her first J.P. Morgan Corporate Challenge individual title with an impressive time of 19:41.
Eleanor Goldrick of Macquarie was a solid second in 20:05 with Kate Fitzsimons of Allens third in 20:11. Fitzsimons had been the runner-up in 2017 to winner Lexy Gilmour from Westpac.
For the fifth consecutive year, J.P. Morgan donated on behalf of all entrants to the Indigenous Marathon Foundation (IMF), which has been a model of success since being launched by running legend Rob de Castella in 2009.
Jack Wilson, a 2013 IMF graduate, is now wildly popular after starring on Australian Ninja Warrior. He proudly gave his time this year to promote the partnership between IMF and the Corporate Challenge.
"IMF means to me family, culture and definitely health and wellbeing," Wilson said. "It has impacted my life in many ways. IMF made me believe anything is possible and allowed me to share my passion."
Passionate is an appropriate way to describe the participation of the Australian Securities Exchange (ASX).
Team captain Ben Jackson explained that many of the issuers listed on the Stock Exchange participate, alone with many of the major vendors.
"It is a great way for our staff to get involved in a fun event that not only promotes fitness but also builds connections across our teams and the business," Jackson said.
"There's a good vibe in the office during the few weeks build-up to the event and we always provide an ASX themed race singlet which is revealed a few days prior," Jackson continued. "There is a great atmosphere on the coach to Centennial Park and during the event and a big celebration after. And there are a number of executives that join the team."
And those numbers just keep improving at the J.P. Morgan Corporate Challenge in Sydney.