An excellent crowd of 6,018 took advantage of a perfect spring evening to participate in the 37th running of the J.P. Morgan Corporate Challenge in Syracuse, alongside Lake Onondaga.
For the first time in its 37-year history, May was the chosen month for the J.P. Morgan Corporate Challenge in Syracuse.
And it turned out beautifully.
Under blue skies, with light breezes and low-humidity temperatures in the mid-60's, the Corporate Challenge greeted 6,018 runners and walkers from 257 companies to beautiful Onondaga Lake Park. The large group raced, jogged and walked 3.5 miles together, then adjourned for a festive post-race party that previewed the celebratory days of summer ahead.
The event is such an important quality-of-life event for businesses in Central New York that it drew the attendance of Syracuse Mayor Ben Walsh and Onondaga County Executive Ryan McMahon.
John Huhtala, Syracuse Executive Director for event owner and operator JPMorgan Chase, feels the Corporate Challenge has been so successful in Syracuse because of its all-inclusive nature.
"It's great to see companies out here with all their company pride, really wearing their t-shirts, and individuals excelling," Huhtala said. "But it's a race for everybody. It's for walkers, runners, and we even have cheerleaders out here, people who just come for the experience and to cheer on their co-workers."
JPMorgan Chase and its predecessor firms have operated the Syracuse event annually since 1982. In an era when corporations are fickle about special events – often cutting bait after just a couple of years -- it leads to a natural question: Why is JPMorgan Chase so loyal to the Corporate Challenge? Huhtala had an answer.
"It's important to us because it's important to the Central New York community," he said, "Companies rally around wellness, fitness, camaraderie and teamwork."
Raymour & Flanigan went all in in its preparation for Central New York's most popular company outing. One of its multi-talented employees, Karen Allen-Turner, a 30-year Triathlete and coach, designed several training programs to help her colleagues at every participation level get ready for the Corporate Challenge.
"We're very lucky to have her expertise while we prepared," said Pat Judd, a senior buyer and Corporate Challenge team captain for Raymour & Flanigan.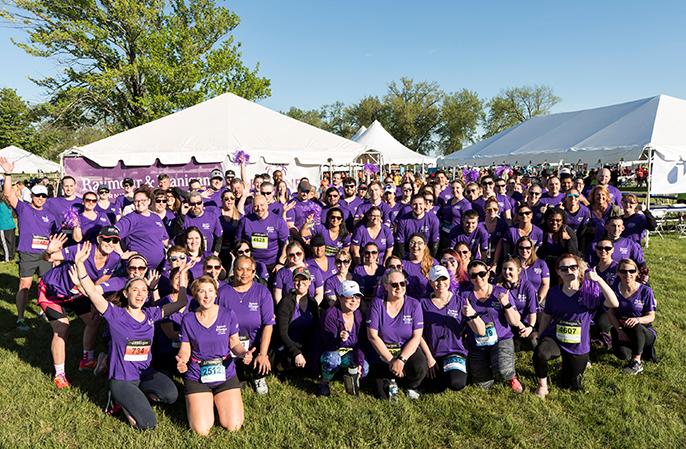 Fueled by an advance training program by one of its talented employees, furniture retailer Raymour & Flanigan had the second largest team in the 2019 J.P. Morgan Corporate Challenge with 152 registered runners and walkers.
Allen-Turner's motivation worked, as the leading furniture retail chain registered 152 of its employees. And Judd also referenced that the Corporate Challenge is a perfect fit within the company culture.
"Our Be One Team philosophy is a driving factor of Raymour & Flanigan's success in serving our customers and the Corporate Challenge is an excellent opportunity to come together as a team and support our community," Judd said. "It's a great chance for all of our different associates, from Home Furnishing Consultants to our IT team, to connect with colleagues they don't often get to interact with. Plus, our team gets some exercise and participate in a little friendly competition."
Raymour & Flanigan's outstanding turnout of 152 employees was topped only by Wegmans. The popular grocery chain registered 260 of its employees. Other businesses that entered 100 or more included Upstate Medical University (141), Syracuse University (136), Crouse Health (133), TCGPlayer (106), and Syracuse Orthopedic Specialists (103).
The first-place men's and women's finishers have officially formed a dynasty – each winning for the fourth consecutive year.
Lee Berube, representing Upstate Medical University, won the men's division with a time of 17:36. He also won here in 2016 (running 17:35), 2017 (17:33) and last year (17:13).
Sascha Scott from Syracuse University earned the women's division title in 20:10. That is significantly quicker than her winning times last year (20:32), 2017 (20:31) and 2016 (21:20). Scott also won here in 2014 and is now a five-time champion.
Matt Johnson of Cryomech was the men's runner-up in 18:12 with Jared Burdick from Knowles Precision Devices coming in third with a time of 18:35. The women's second-place finisher was Crouse Health's Kerzia Marchant (21:27) with Joanna Duffy from Harris third (21:45).
JPMorgan Chase will donate in celebration of the Corporate Challenge to Syracuse Stage, a vital part of Central New York's cultural scene since 1974. The donation will directly benefit artistic, educational, and community programming. JPMorgan Chase is also the naming sponsor of the 2019-20 Syracuse Stage Student Matinee Series.
An entertaining night is ahead at Syracuse Stage as Jason Alexander (TV's Seinfeld) directs The Last Five Years, an emotionally powerful and intimate musical of love gained, and love lost. Tickets for performances May 29-June 16 are now available.
The 43rd season of the J.P. Morgan Corporate Challenge Series moves now from the shores of one Great Lake (Ontario) to another (Michigan). The 37th running of the Corporate Challenge at Chicago's Grant Park will be held on Thursday, May 23.